For the record, the CCPI is an independent monitor for the performance of climate protection in countries across the world. They rate various countries climate politics and view climate protection efforts being made worldwide.
They take into consideration a country's renewable energy, their use of energy, and their policies regarding their climate. These findings have now been revealed for all to see.
Approximately 56 countries have been competing to improve their policies for climate protection including renewable energy.  The Climate Change Performance Index has now revealed its findings for 2019 with surprising results.
The report showed that Sweden led all countries with Morocco following directly behind them. Sweden ranked with a rating of 76.28 and Morocco came in at 70.48.  These findings are from the latest index report for 2019.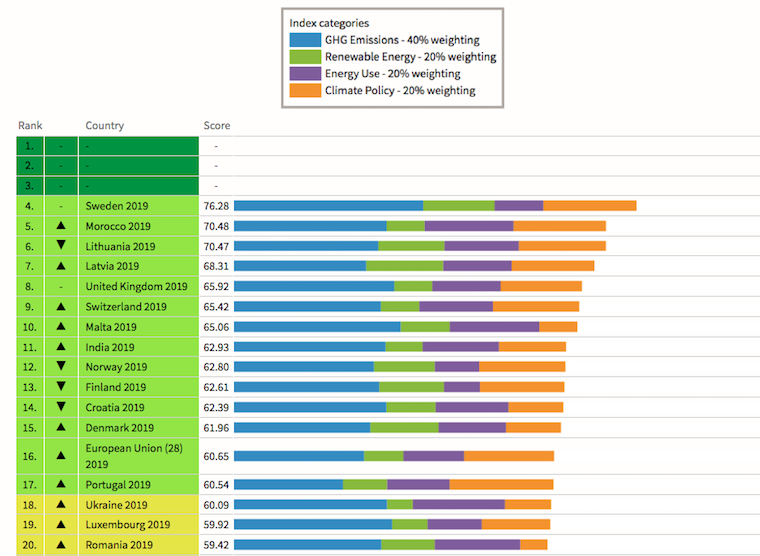 According to the Renewable Energy Country Attractiveness Index, Morocco came in higher than Africa as well as the MENA regions and it's believed this is due to their continued efforts for a better climate environment. This information is based on a list of 40 countries that were surveyed.
The CCPI covered 56 countries and the European Union but none ranked in the top 3 positions.
The CCPI studied all 56 countries and determined that the United Kingdom, the European Union, Norway, India, and Portugal reached the highest scores while the United States, Saudi Arabia, Taiwan, Korea, and Taipei came in last.
Morocco showed incredible improvements over the past 5 years by implementing excellent policies for their renewable energy projects.
Their growth and improvements are according to the Climate Action Network and the New Climate Institute.
Many leading climate experts followed Morocco and felt their national policies were suffering from delays due to a number of factors.
Since then, they have reported that the country has developed a future plan for 2050 that could very well place Morocco in the position to be the next world leader in renewable energy in a very short period of time.
Britain's Ernst and Young has been following Morocco and observed they have made significant strides over the past few years for reducing their greenhouse emissions and greatly improving their energy capacities.
It's believed their energy capacity has greatly improved due to their connection with Noor which is the largest solar power plant in the entire world.
Other reports, along with climate experts who have been following the Climate Change Performance Index, believe there are several projects that were struggling to receive any exposure due to pricing.
Many of these price changes are caused by corporate energy buyers who are further endorsing clean energy programs. Their endorsements have influenced renewable changes in certain countries including Morocco.