A year-long wait for music lovers is over. This year's enthralling Mawazine Festival will be held from 21st June to 29th June 2019. All the music lovers from different parts of Morocco and of the world will gather to experience the best music and rhythms in one place.
Placed under the High Patronage of His Majesty King Mohammed VI, Mawazine is going to enter its 18th year, and like previous years, the festival organisers promise a sensational edition and awe-inspiring experience.
Mawazine is an international music festival that is held annually in Morocco and is considered as one of the best music festivals in the world.
The festival takes place in Rabat, the capital city of Morocco, with scores of popular local and international music artists performing live in front of energetic crowds. The main motive of these kinds of events is to promote this country as one tolerant nation
This music festival is organized every year by the Moroccan cultural organization, Maroc Cultures association, which also organizes many other cultural events. The Businessman, Abdeslam Ahizoune is the president of Maroc Cultures association and President of the Mawazine Festival, he's also the chairman and CEO of "Maroc Telecom" the main telecommunication company in Morocco.
You can imagine the popularity of Mawazine Festival in Rabat from these stats: Every year over 2 million people attend this event, making it the second largest festival in the world. That's nothing compared to over 40 million television viewers of this event broadcasted worldwide.
The ratio of audiences per stage is also the highest in the world. In the nine-day run, a variety of artists from over 30 countries performs in this music festival.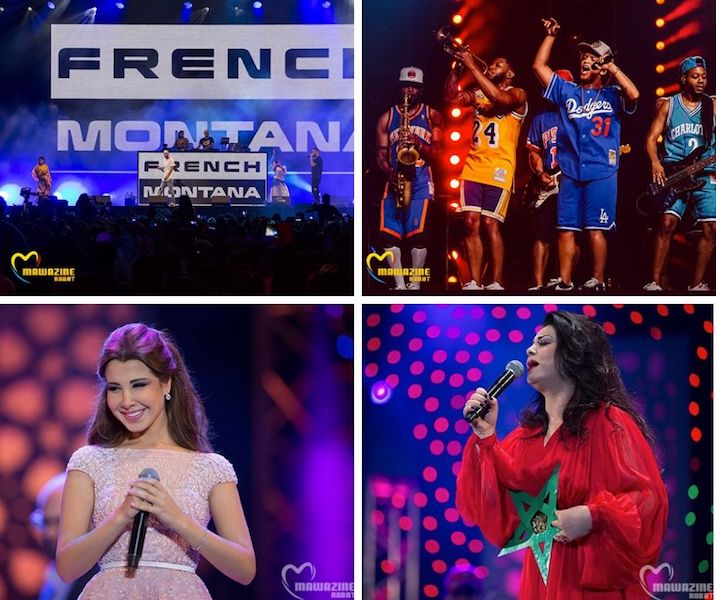 Many big names from all over the world bring life to this event: Sting, Mariah Carey, French Montana, Rihanna, Elton John, Bruno Mars, Stevie Wonder, Kadem Al Saher, Majida El Roumi, Nancy Ajram and Latifa Raafat among others have performed in the past.
What's interesting about this festival is that the shows and workshops are free for everyone. But if you would like to attend some specific shows or want space near the stage, you can also buy tickets.
Mawazine 2019

The events will be held on six different stages:
Nahda Space, Mohammed V National Theater, Sale Beach, Olm Souissi, Historical Site of Chellah, and Bouregreg.
The variety of genres includes International, Moroccan, Street Shows, World music, Rhythms of the World, Discovery and Oriental.
Some of the best artists from different countries will be performing at this 18th edition of the festival. The popular names include,
Maluma
Lartiste
Dadju
Youssoupha
Bigflo & Oli
Les Amazones d'Afrique
Kery James
David Guetta
Assi El Hallani
Elissa
Najwa Karam
Hussain Al Jassmi
Abdellah Daoudi
Aicha Tachinwit
Zina Daoudia
Reda Taliani
The artists will be performing on specific dates. Check the programme list to know when is your favourite artist performing and where. Apart from these performances, there will also be live music shows every day on the streets. The popularity of this music festival is only increasing, so don't miss out on watching your favourite artist performing live in Rabat.
Mawazine Festival Program guide
Mawazine Festival Ticket Sales Points